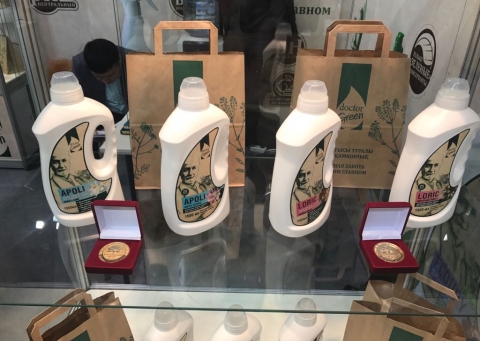 We are so happy to inform you about the first major victory of Doctor Green at the international level! From 14 to 16 February 2018 in Moscow at "Olympic" Sport Complex the brand of environmentally friendly household chemicals Doctor Green was awarded with 3 Gold and 1 Silver medals at the international exhibition "Interbytkhim-2018" for 4 products for the care of the house and body:
- Dish Detergent
- Liquid detergent for washing whites
- Liquid detergent for washing colours
- Conditioner Fabric softener
ИНТЕРБЫТХИМ is the only specialized International Trade Show for companies engaged in the production and sale of household and personal care products in the former Soviet republics.
The concept of the exhibition is expressed in one phrase for many years: "From raw materials to the final product!", which reflects the meaning of the exhibition, where you can see the entire technological process of production and sales.
The manufacturers and suppliers of raw materials, equipment, and packaging and finished products were represented there.
Trade Show is a special channel of interaction between companies that are part of the industry community. The business event execution allows to maximally reveal the production potential of enterprises, demonstrate the center of power, attract not only new partners, but also investors.
Taking these awards means that our products are already highly respected outside of Kazakhstan, which means that we manufactured products, that are useful for people.
Thank you for being with us!