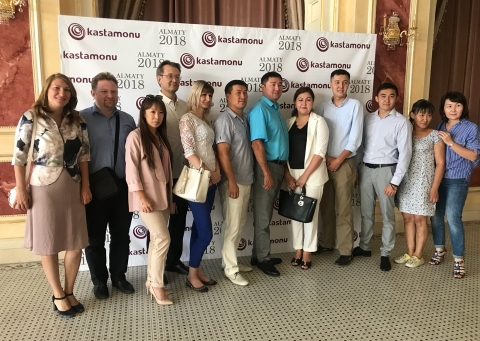 On June 27, Professional conference took place for dealers of one of the largest woodworking companies Kastamonu at the GrandRoom of the RoyalTulip hotel in Almaty. Kastamonu Company is one of the five largest companies in the wood processing Industry in Europe who specializes in the manufacture of MDF, Pressed wood, and laminated flooring, locking bars and furniture panels.
More than 100 representatives of construction companies, designers, contractors and supervisors from Kazakhstan, Kyrgyzstan and Uzbekistan took part in the conference to be acquainted with the products and brand perspectives.
Alina Group is one of two official dealers of Kastamonu in Kazakhstan, providing the widest range of brand products to consumers. At the end of the press conference, Representatives of Alina Group and Kastamonu jointly made the Grand Opening of a new branded boutique in Almaty in the new construction center of Zhibek Zholy at Masanchi-ZhibekZholy.
Alina Group has own retail network of flooring centers «Домовой», where customers can purchase more than 200 kinds of floor coverings, products of their own production of dry building mixtures of Alinex and OUR brands, Alina Paint varnish and paint products, as well as accessories of the best European brands.