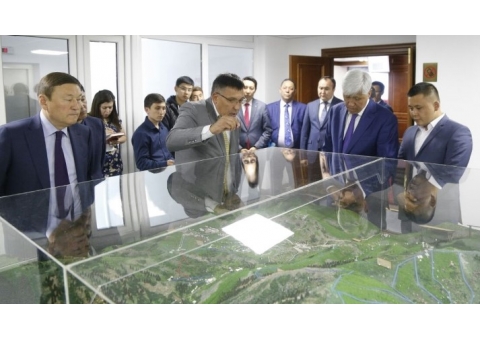 Businessman Erlik Balkanbaev, Activity owner presented the land-use plan and architectural model of the «Апорт-Актас» ski resort to the Head of the Almaty Region Amandyk Batalov.
"The new resort is the development of the project" Lesnaya Skazka "in Talgar district. According to E. Balfanbayev, within the framework of this project we are planning to build 12 ropeways, 31 km ski tracks, as well as hotels with more than 700 beds, restaurants, cafes and so on. The planned number of visitors per year - 724 thousand people, which is up to 12 thousand visitors per day. According to the press service of the Head of region -"over 600 jobs will be created".
The main feature of the complex is - all year-round operation. The ski resort will operate four seasons. The themes of the winter period are mountain skiing, hockey, ice-skating, and in the summer - biking, horse-riding expedition and much more. Therefore, in the summer time the ski runs will become cycle tracks. Thus, the resort should be a place for year-round recreation for tourists.
As the Mayor Amandyk Batalov noted that: "Tourism Development is one of the most important priorities of the planned work".
The Mayor said that: "During the recent visit to the Almaty region, the Head of State set the task of making more active use of the region's tourism potential, including the mountain tourism, which is being intensively developed. Investment project of Ski resort that was presented today is very important for the implementation of the task. It will be a great contribution to the large-scale involvement of tourists. In addition, these are created jobs, investments and, most important thing is attracting the population to a healthy lifestyle".
The Head of the region also noted that the necessary assistance in the development of engineering infrastructure would be provided. This concerns the construction of roads, electricity, water supply and sewerage system.