32

years in the market

12

Plants

19

Trade
subsidiaries

2760

Specialists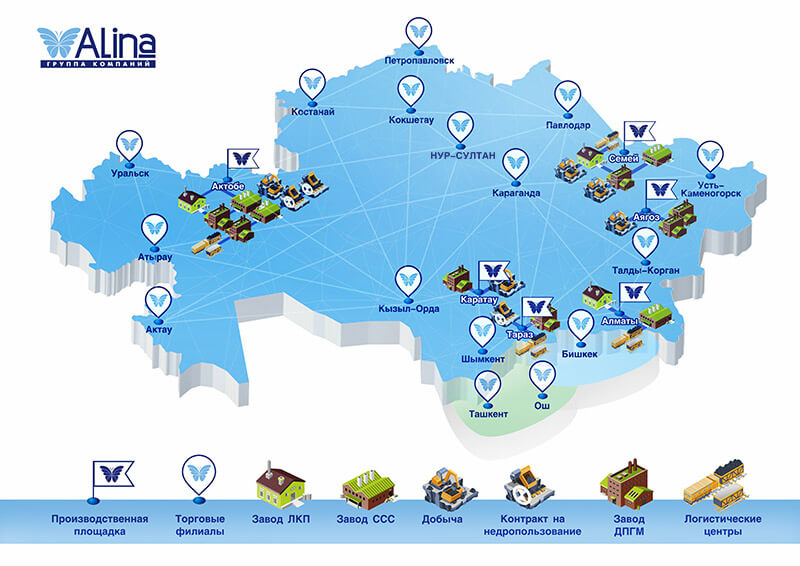 The Alina Group of Companies was founded in 1989 – the diversified holding which is engaged in development of various industries of business.
The following independent directions of business are a part of Alina Group:
Alina industrial Group (Brands «AlinEX», «Alina Paint», «Decorex», «НАШИ», «NORMA», «G-EX»)
Mountain Family Resort & SPA "Lesnaya Skazka"
Network of the centers of floor coverings Domovoi
Electronic hypermaket of goods for household and garden DOMSAD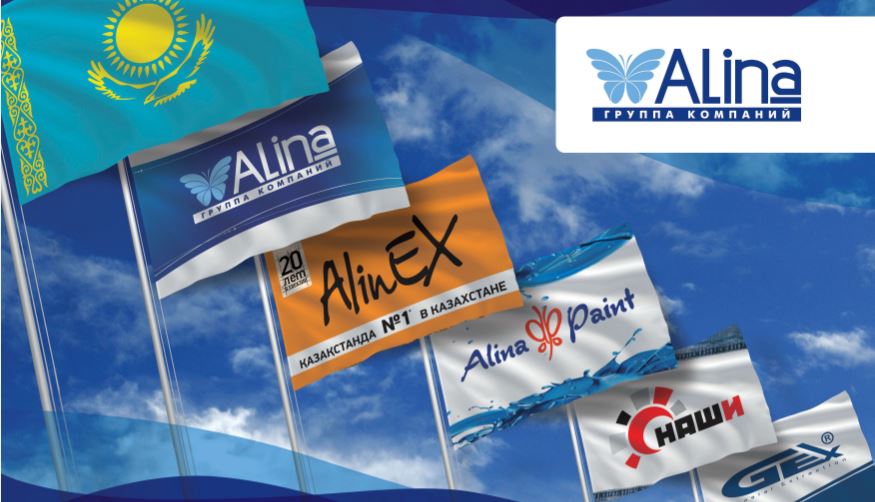 Mission:
We produce construction materials which change Life of each Person and ensure Safety, Comfort and Confidence in the future.
Alina industrial Group
is the leader in Central Asia and Russia in production of construction materials. Thanks to a complete cycle of production – from production and conversion of raw materials before sale of finished goods to the final consumer, IG Alina quickly addresses needs of the Market, guarantees Stability and Safety of a product, and a profitable quality-to-price ratio. The scientific and technical innovative center (STIC Factory of Inventions) which includes own laboratories provides multi-level quality control of products of all brands of construction and finishing materials of the Industrial Group. The assortment product line of IG Alina includes: dry construction mixes AlinEX, OURS paint and varnish products, decorative paints and Alina Paint, Decorex plasters, mineral G-Ex raw materials, Alina gypsum cardboard.
Mountain Family Resort & SPA "Lesnaya Skazka"
It is the all-season, multipurpose resort for active recreation and communication with the nature in the territory of more than five and a half hectares in the gorge Oy-Karagay. The mountain resort hotel Lesnaya Skazka gives the atmosphere of an extreme and entertainments, and also provides a full range of services in accommodation, food, active recreation, holding various actions, and many other things.
Network of the centers of floor coverings Domovoi
It is a quick assistance in case of any repair. In shops of the network it is possible to purchase any products: high-quality construction mixes for every taste and in any price category – carpet flooring, laminate and any other floor coverings, and also exclusive materials for a house and a garden, from elite plumbing fixtures to a unique mosaic tile.
Electronic hypermaket of goods for household and garden DOMSAD
It is the a convenient project for those who appreciate the time, nerves, powers and money. The construction materials with a quality assurance checked by time and recommended by professional builders are supplied to consumers home on the day of order. All products offered in DOMSAD Internet hypermarket are provided directly from producers, at the prices of the manufacturing plants, without excess price markups, and cheaper, than in the construction markets.
Branches of the Alina Group operate across all Kazakhstan, and also in the cities of Kyrgyzstan. The wide dealer network (more than 100 dealers) covers the cities of Central Asia and Russia.
In the Alina Group of Companies the quality management system in implemented according to requirements of the international standard ISO 9001:2000.
Дипломы и награды
Рекомендательные письма